Non-Insulated Blade Terminals
Model :B1.25
Blade Terminals feature a standard style tongue and are built to ensure secure connectivity.
– Flat blade design to prevent damage to the wire from over tightening, resulting in a reliable electrical connection.
– For use with blade-type terminal blocks.
– Insulation support helps to prevent wire damage in bending applications.
---
Material : Copper tube with tin plated
Color : Please refer to the specification chart below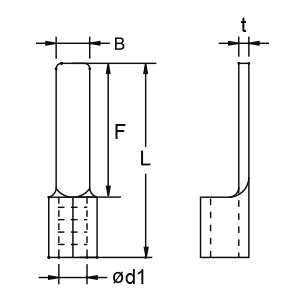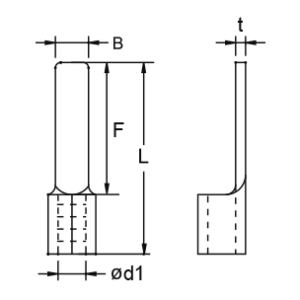 Part.No
Dimension
Wire Range
d1 mm
B mm
F mm
L mm
t mm
AWG
mm2
B1.25-9SB
1.9
2.3
9
14
0.75
22-16
0.5-1.5
B1.25-9B
1.9
2.7
9
14
0.75
22-17
0.5-1.5
B1.25-12B
1.9
3
12
16
0.75
22-18
0.5-1.5
B1.25-14.5B
1.9
3
14.5
19
0.75
22-19
0.5-1.5
B1.25-18B
1.9
2.45
18
23
0.75
22-20
0.5-1.5
B2-9B
2.5
2.8
9
14
0.8
16-14
1.5-2.5
B2-16B
2.5
2.9
16
21
0.8
16-15
1.5-2.6
B2-18B
2.5
2.45
18
23
0.8
16-16
1.5-2.7
B5.5-10B
3.6
2.8
10
16.5
1
12-10
4-6
B5.5-13B
3.6
4.6
13
19.5
1
12-11
4-6
B5.5-18B
3.6
4.5
18
24.5
1
12-12
4-6