Model :CT
Cord End Terminals provides an effective way not only to ensure the wire will be secure with all the lines enclosed by the terminal end but also provide a convenient way to mark and distinguish wires from one another.
– Meets DIN standards for twin wire containment. Insulation housing conforms to DIN color requirements.
– Funnel entry for faster insertion and lower installed cost.
– Designed with a seamless barrel to contain loose wire strands for superior terminations.
– Ease of inserting wire into terminal block.
– Suitable for limited space panel applications.
– Multiple pin lengths available for a variety of terminal blocks.
---
Material : Copper tube with Tin Plated end sleeves with insulation Polyamide 6.6
Color : Please refer to the specification chart below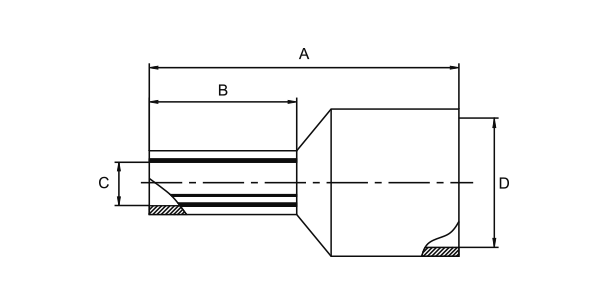 w systme
T system
Din system(DIN46228/4)
Conductor sq. mm
A.W.G
A mm
B mm
Cmm
Dmm
tools
CT205008W(Orange)
CT205008T(White)
CT205008D(White)
2×0.50
20
15
8
1.5
4.7
GIT-510
GIT-516E1
CT207508W(White)
CT207508T(Blue)
CT207508D(Grey)
2×0.75
19
15
8
1.8
5
GIT-510
GIT-516E2
CT207510W(White)
CT207510T(Blue)
CT207510D(Grey)
2×0.75
19
17
10
1.8
5
GIT-510
GIT-516E3
CT210008W(Yellow)
CT210008T(Red)
CT210008D(Red)
2×1.00
18
15
8
2.05
5.4
GIT-510
GIT-516E4
CT210010W(Yellow)
CT210010T(Red)
CT210010D(Red)
2×1.00
18
17
10
2.05
5.4
GIT-510
GIT-516E5
CT215008W(Red)
CT215008T(Black)
CT215008D(Black)
2×1.50
16
16
8
0.23
6.6
GIT-510
GIT-516E6
CT215012W(Red)
CT215012T(Black)
CT215012D(Black)
2×1.50
16
20
12
2.3
6.6
GIT-510
GIT-516E7
CT225010W(Blue)
CT225010T(Grey)
CT225010D(Blue)
2×2.50
14
18.5
10
2.8
7.8
GIT-516E1
CT225013W(Blue)
CT225013T(Grey)
CT225013D(Blue)
2×2.50
14
21.5
13
2.8
7.8
GIT-516E1
CT240012W(Grey)
CT240012T(Orange)
CT240012D(Grey)
2×4.00
12
23
12
3.7
8.8
GIT-516E3
CT260014W(Black)
CT260014T(Green)
CT260014D(Yellow)
2×6.00
10
26
14
4.8
10
GIT-516E2
GIT-517E
CT210014W(Ivory)
CT210014T(Brown)
CT210014D(Red)
2×10.00
8
26.5
14
6.4
12.8
GIT-516E3
CT216014W(Green)
CT216014T(Ivory)
CT216014D(Blue)
2×16.00
6
31.5
14
8.3
18.6
GIT-516E4