Model :CE
Cord End Terminals provides an effective way not only to ensure the wire will be secure with all the lines enclosed by the terminal end but also provide a convenient way to mark and distinguish wires from one another.
– Insulation housing conforms to DIN color requirements.
– Meets DIN standards for single wire containment.
– Funnel entry for faster insertion and lower installed cost.
– Designed with a seamless barrel to contain loose wire strands for superior terminations.
– Ease of inserting wire into terminal block.
– Suitable for limited space panel applications.
– Multiple pin lengths available for a variety of terminal blocks.
---
Material : Copper tube with Tin Plated end sleeves with insulation Polyamide 6.6
Color : Please refer to the specification chart below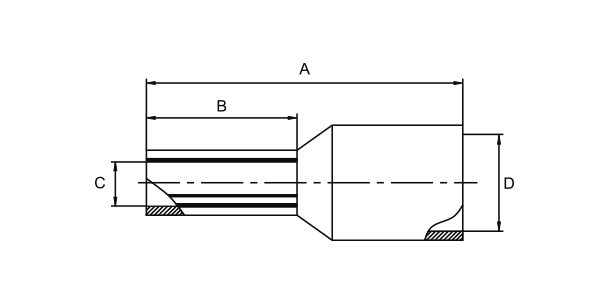 Conductor
Dimension
tools
W system
T system
Din system
sq. mm
A.W.G
A mm
B mm
Cmm
Dmm
CE002506W(light blue)
CE002506T(purple)
0.25
24
10
6
0.75
1.9
GIT-510
CE002508W(light blue)
CE002508T(purple)
0.25
24
12
8
0.75
1.9
GIT-510
CE003406W(turquoise)
CE003406T(pink)
0.34
22
10
6
0.8
1.9
GIT-510
CE003408W(turquoise)
CE003408T(pink)
0.34
22
12
8
0.8
1.9
GIT-510
CE005006W(orange)
CE005006T(white)
CE005006D(white)
0.5
20
12
6
1
2.6
GIT-510
GIT-516E1
CE005008W(orange)
CE005008T(white)
CE005008D(white)
0.5
20
14
8
1
2.6
GIT-510
GIT-516E2
CE005010W(orange)
CE005010T(white)
CE005010D(white)
0.5
20
16
10
1
2.6
GIT-510
GIT-516E3
CE00706W(white)
CE007506T(light blue)
CE007506D(grey)
0.75
19
12
6
1.2
2.8
GIT-510
GIT-516E4
CE007508W(white)
CE007508T(light blue)
CE007508D(grey)
0.75
19
14
8
1.2
2.8
GIT-510
GIT-516E5
CE007510W(white)
CE007510T(light blue)
CE007510D(grey)
0.75
19
16
10
1.2
2.8
GIT-510
GIT-516E6
CE007512W(white)
CE007512T(light blue)
CE007512D(grey)
0.75
19
18
12
1.2
2.8
GIT-510
GIT-516E7
CE010006W(yellow)
CE010006T(red)
CE01006D(red)
1
18
12
6
1.4
3
GIT-510
GIT-516E8
CE010008W(yellow)
CE010008T(red)
CE010008D(red)
1
18
14
8
1.4
3
GIT-510
GIT-516E9
CE010010W(yellow)
CE010010T(red)
CE010010D(red)
1
18
16
10
1.4
3
GIT-510
GIT-516E10
CE010012W(yellow)
CE010012T(red)
CE010012D(red)
1
18
18
12
1.4
3
GIT-510
GIT-516E11
CE015008W(red)
CE015008T(black)
CE015008D(black)
1.5
16
14
8
1.7
3.5
GIT-510
GIT-516E12
CE015010W(red)
CE015010T(black)
CE015010D(black)
1.5
16
16
10
1.7
3.5
GIT-510
GIT-516E13
CE015012W(red)
CE015012T(black)
CE015012D(black)
1.5
16
18
12
1.7
3.5
GIT-510
GIT-516E14
CE015018W(red)
CE015018T(black)
CE015018D(black)
1.5
16
24
18
1.7
3.5
GIT-510
GIT-516E15
CE025008W(blue)
CE025008T(grey)
CE025008D(blue)
2.5
14
14
8
2.2
4.2
GIT-510
GIT-516E16
CE025010W(blue)
CE025010T(grey)
CE025010D(blue)
2.5
14
16
10
2.2
4.2
GIT-510
GIT-516E17
CE025012W(blue)
CE025012T(grey)
CE025012D(blue)
2.5
14
18
12
2.2
4.2
GIT-510
GIT-516E18
CE025018W(blue)
CE025018T(grey)
CE025018D(blue)
2.5
14
24
18
2.2
4.2
GIT-510
GIT-516E19
CE040010W(gray)
CE040010T(orange)
CE040010D(grey)
4
12
17
10
2.8
4.8
GIT516E1
CE040012W(gray)
CE040012T(orange)
CE040012D(grey)
4
12
20
12
2.8
4.8
GIT516E2
CE040018W(gray)
CE040018T(orange)
CE040018D(grey)
4
12
26
18
2.8
4.8
GIT516E3
CE060012W(black)
CE060012T(green)
CE060012D(yellow)
6
10
20
12
3.5
6.3
GIT-516E2
CE060018W(black)
CE060018T(green)
CE060018D(yellow)
6
10
26
18
3.5
6.3
GIT-516E3
CE100012W(white)
CE100012T(dark red)
CE100012D(red)
10
8
22
12
4.5
7.6
GIT-516E2
GIT-516E3
CE100018W(white)
CE100018T(dark red)
CE100018D(red)
10
8
28
18
4.5
7.6
GIT-516E2
GIT-516E4
CE160012W(green)
CE160012T(ivory)
CE160012D (blue)
16
6
22
12
5.8
8.8
GIT-516E2
GIT-516E5
CE160018W(green)
CE160018T(ivory)
CE160018D (blue)
16
6
28
18
5.8
8.8
GIT-516E2
GIT-516E6
CE250016W(dark red)
CE250016T(black)
CE250016D (yellow)
25
4
30
16
7.3
11.2
GIT-516E3
GIT-516E4
CE250018W(dark red)
CE250018T(black)
CE250018D (yellow)
25
4
32
18
7.3
11.2
GIT-516E3
GIT-516E5
CE250022W(dark red)
CE250022T(black)
CE250022D(yellow)
25
4
36
22
7.3
11.2
GIT-516E3
GIT-516E6
CE350016W(ivory)
CE350016T(red)
CE350016D (red)
35
2
30
16
8.3
12.7
GIT-516E4
CE350018W(ivory)
CE350018T(red)
CE350018D(red)
35
2
32
118
8.3
12.7
GIT-516E5
CE350025W(ivory)
CE350025T(red)
CE350025D(red)
35
2
39
25
8.3
12.7
GIT-516E6
CE5000020W(Olive)
CE500020T(blue)
CE50020D (blue)
50
1
36
20
10.3
15
GIT-516E4
GIT-518
CE500025W(Olive)
CE500025T(blue)
CE500025D(blue)
50
1
40
25
10.3
15
GIT-516E4
GIT-519
CE700021W(yellow)
CE700021T(yellow)
CE700021D (yellow)
70
2/0
37
21
13.5
16
GIT-518
CE950025W(red)
CE950025T(red)
CE950025D(red)
95
3/0
44
25
14.7
18
GIT-518
CE120027W(blue)
CE120027T(blue)
CE120027D(blue)
120
4/0
48
27
16.7
20
GIT-518
CE150032W(yellow)
CE150032T(yellow)
CE150032D (yellow)
120
250
58
32
19.5
23
GIT-518