Vinyl-Insulated Butt Splices
Model :VI1.25
Butt splices feature a standard style tongue and are built to ensure secure connectivity.
– Expanded wire entry designed to accommodate wires with a larger insulation thickness.
– Designed to splice two solid or stranded wires together to repair or lengthen wires.
– Brazed seam protects terminal barrel from splitting during the crimping process.
– Internal wire stop assures proper length of insertion into terminal barrel.
---
Material : Brass tube with tin plated end sleeves with insulation PVC
Color : Please refer to the specification chart below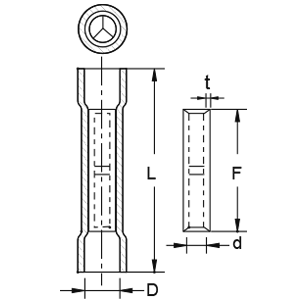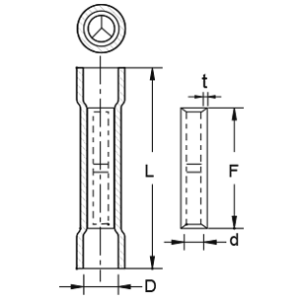 Part.No
color
Dimension
Material
Wire Range
D
B
L
t
AWG
mm2
VI1.25S
Red
4
1.75
24
0.5
Copper Plate
22-16
0.5-1.5
VI1.25M
Red
4.3
2.1
25
0.65
Copper Plate
22-16
0.5-1.5
VI1.25
Red
4.3
1.7
25
0.75
Copper Plate
22-16
0.5-1.5
VI1.25T
Red
4.3
1.7
25
0.75
Copper Tubular
22-16
0.5-1.5
VI2S
Blue
4.3
2.3
24
0.5
Copper Plate
16-14
1.5-2.5
VI2M
Blue
4.5
2.8
25
0.65
Copper Plate
16-14
1.5-2.5
VI2
Blue
4.5
2.3
25
0.8
Copper Plate
16-14
1.5-2.5
VI2T
Blue
4.5
2.4
25
0.8
Copper Tubular
16-14
1.5-2.5
VI5.5S
Yellow
6.3
3.8
25
0.5
Copper Plate
12-10
4-6
VI5.5M
Yellow
6.5
3.8
27
0.75
Copper Plate
12-10
4-6
VI5.5
Yellow
6.5
3.4
27
1
Copper Plate
12-10
4-6
VI5.5T
Yellow
6.5
3.57
27
0.95
Copper Tubular
12-10
4-6