Vinyl-Insulated Male Disconnectors
Model :VT1.25
Disconnectors feature a standard style tongue and are built to ensure secure connectivity.
– Male tab couples with female disconnects.
– Male tab can be inserted and removed from the female disconnect without the use of tools for lower installation cost.
– Metal insulation grip sleeve crimps to wire insulation, providing protection to the crimp joint during high vibration applications.
---
Material : Brass tube with tin plated end sleeves with insulation PVC
Color : Please refer to the specification chart below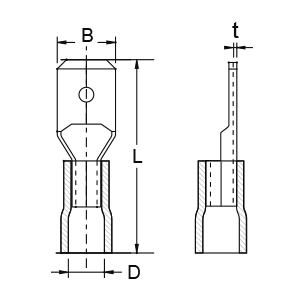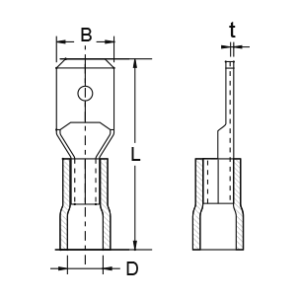 Part.No
color
Dimension
To fit Tab size
Wire Range
D
B
L
t
AWG
mm2
VT1.25-2.8S
Red
3.6
2.9
21.5
0.25
2.8×0.5
22-16
0.5-1.5
VT1.25-2.8
Red
3.6
2.9
21.5
0.4
2.8×0.8
22-16
0.5-1.5
VT1.25-4.8S
Red
3.6
4.8
21.5
0.25
4.8×0.5
22-16
0.5-1.5
VT1.25-4.8
Red
3.6
4.8
21.5
0.4
4.8×0.8
22-16
0.5-1.5
VT1.25-6.4
Red
3.6
6.4
21.5
0.4
6.4×0.8
22-16
0.5-1.5
VT2-2.8S
Blue
4.4
2.9
22
0.25
2.8×0.5
16-14
1.5-2.5
VT2-2.8
Blue
4.4
2.9
22
0.4
2.8×0.8
16-14
1.5-2.5
VT2-4.8S
Blue
4.4
4.8
22
0.25
4.8×0.5
16-14
1.5-2.5
VT2-4.8
Blue
4.4
4.8
22
0.4
4.8×0.8
16-14
1.5-2.5
VT2-6.4
Blue
4.4
6.4
22
0.4
6.4×0.8
16-14
1.5-2.5
VT5.5-2.8S
Yellow
5.4
2.9
23.5
0.25
2.8×0.5
12-10
4-6
VT5.5-2.8
Yellow
5.4
2.9
23.5
0.4
2.8×0.8
12-10
4-6
VT5.5-4.8S
Yellow
5.4
4.8
23.5
0.25
4.8×0.5
12-10
4-6
VT5.5-4.8
Yellow
5.4
4.8
23.5
0.4
4.8×0.8
12-10
4-6
VT5.5-6.4
Yellow
5.4
6.4
23.5
0.4
6.4×0.8
12-10
4-6