Polyamide 12 Saddle Tie Mounts
Model : TM-PA12
– For corrosive, high humidity, long-hour exposure to UV light, or environments in low temperature.
– 3,600 hours of UV light exposure in the laboratory. Equivalent to 24 years of weathering life expectancy.(Note 1)
– Excellent performance for applications in critical environments. Such as offshore, oil rigs, deserts, and cold areas.
– Suitable for attachments to galvanized surfaces.
– Curved design provides additional support to the cable
– Provides excellent security in areas of high vibration
Note 1 – The data are observed under the conditions in laboratory and cannot be used as indication of product liability.
---
Material – Polyamide 12
Flammability rating – UL94HB
Color – Black
Operating Temperature -40°C ~ 95°C
---
Weathering Test –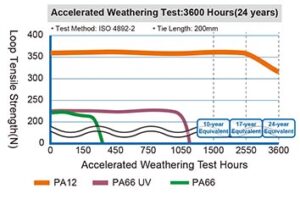 Part.No
Length(L)

Width(W)

Height (H)
Mounting Hole Ø

Max. Tie Width
mm
inch
mm
inch
mm
inch
mm
inch
mm
inch
TM-2S6-PA12
14.9
0.59
9.5
0.37
7.2
0.28
3.7
0.15
4.8
0.19
TM-2S8-PA12
14.9
0.59
9.5
0.37
7.2
0.28
4.5
0.18
4.8
0.19
TM-3S8-PA12
21.9
0.86
15.9
0.63
9.7
0.38
4.5
0.18
9
0.35
TM-3S10-PA12
21.9
0.86
15.9
0.63
9.7
0.38
5
0.2
9
0.35
TM-3S25-PA12
21.9
0.86
15.9
0.63
9.7
0.38
6.4
0.25
9
0.35
TM-1A10-PA12
22.7
0.89
13.6
0.54
17.2
0.68
5
0.2
9
0.35